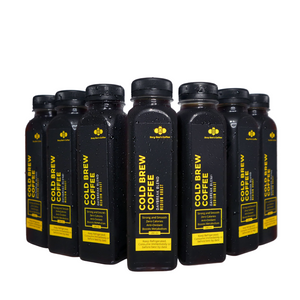 Situation Critical, Need More Caffeine!

Includes: 7 bottles of Daybreak Cold Brew
Expecting a heavy work week? Get ready to grind it out with seven bottles of our favorite DAYBREAK blend. Get ready for a smooth coffee that's easy on the stomach but high on caffeine for that added mental focus and energy and get things done!

A perfect choice for when you need a refreshing drink that's delicately balanced with a chocolaty finish.

Each cup is guaranteed to give you High Energy, our blend contains more caffeine than leading coffee brands.

Work Hard. Increase mental focus and alertness with our seriously strong coffee.
Play hard. Drink 5-30 mins before a workout to increase endurance and energy.
Masterfully roasted to bring out those smooth and deep chocolaty flavors of our premium Indonesian and Brazilian beans.
No preservatives, 100% natural.
Highly addictive! We guarantee you'll enjoy our delicious blend as much as we enjoyed creating it!
Satisfaction Guaranteed! Contact us if you feel we don't have seriously strong coffee blend and we'll offer a full refund.
Shake well before drinking.
Daily Grind Does It
Love it. Need it for another productive week 😊